 Dumb F-cking Animals
feature
They may be cute, but they ain't cuddly.

Nominee
Draft #1
2 Reviews | 75 pages | 1 month ago | Draft 1
Summary
Sprinkles, a stuffed unicorn, and his best friend/roommate, Kaw, are both going about their days when Kaw decides to take Sprinkles to a club. Everything is going well until a trio of vicious animals attack the club. Before they know it, Sprinkles and Kaw find themselves on the run as one of them is being targeted for an experiment called "Project Sugarcoat" run by a mythical madman named Dr. Chimera.

Contains pervasive language, strong crude sexual content, drug use and bloody violence.
Industry Reviews
Peer Reviews
I hope the dirge of notes isn't discouraging, I think everything you wrote is good, these are
just some ways I think you can make your story great.

You do a good job quickly establishing that even though there are talking animals
this is not a kids show (if the title didn't give it away already). F-bomb on
the first page, murder on the fourth.

Pg. 4
Love the contrast of a cutesy unicorn and stuffed animal crow working out and smoking...
Overall this was a really fun script and a really clever idea. With this type of creativity, I can definitely see a collaboration on an animated script if that's something you'd be interested in. I enjoyed the way you told this story. I really felt for Kaw at the end with his mom. Oh, the part with the threesome lol, it was interesting to read but if I'm being honest, that part can be fully removed from the script and it wouldn't make a differenc...
Recommended for You When a traumatized cop's wife and daughter are attacked by sex-crazed mutant monster monkeys in the Brunei jungle, he must 'man up' and face his phobias - or lose his beloved family.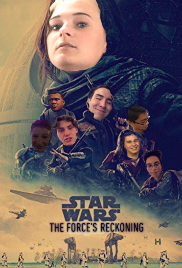 Lord Malcolm continues to capture Jedi from across the galaxy which causes Master Oscar and his Padawan Connor to go into hiding on the Planet Soiven. Meanwhile Master Marc Kena and his Padawan Chelsea Wilson search for the ancient Jedi and Sith scriptures before the Empire finds them A biopic of historical swashbuckling war story focused on the 7th Kosciuszko Escadrille, an all-volunteer (American and Canadian) squadron to defend Poland during the Polish-Bolshevik War of 1920.