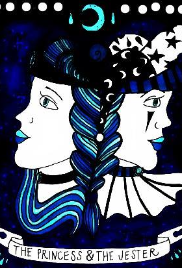 Misty River
television
Get ready, to jump into the exciting life of 15 year old River Lincoln. Starting out at a new high school can be hard enough but when bumping into the school's bully on the the first day, River's life becomes extremely tempestuous. Will he be able to survive at his new school?
1 Reviews | 47 pages | 3 years ago | Draft 1
Summary
~When the Mist rolls in and the River raises will you survive?

Get swept into the lives of Misty and River Lincoln. When Misty accepts a new Vice Principal job at Rachelwood High, River's life is turned upside down. Starting out in a new school, is hard for anyone, but when River makes the unfortunate mistake of bumping into the school's "It Boy" Dakota D'Ambrosio his life becomes a living hell! To make an enemy out of an D'Ambrosio is foolish, will River be able to survive his sophomore year? Find out in episode 1 of Misty River in tilted "The Princess & The Jester"

P.S.
I've written episodes 2 & 3 also!!!
Industry Reviews
Peer Reviews
Concept is good but not strong enough to be enticing.
Plot is a little weak.
First ten pages didn't draw me in.
Scenes are not well written.
Protagonist is compelling enough but the way their characters is executed in not very good.
Dialogue is not very good.
Climax is good but could be better.
Recommended for You A headstrong biochemist must survive an island-wide physics/genetic experiment, while a group of flamboyant musicians on the mainland must survive the ongoing consequences of that experiment. A camera guy decides to follow the day to day life of a proud and eccentric motel manager, when a mysterious drifter rolls into town disrupting the manager's routine life. Against impossible odds, Gatito will try to change the unjust law that has condemned him and his loved ones to a hopeless life. As this happens, a governor obsessed with scapegoating immigrants rises to power, corrupting institutions and targeting Gatito himself.