Summary
Parisa's childhood experiences have taught her one lesson, love is weakness and this is a lesson she carries throughout her adult life.


When she meets with an accident and finds herself being taunted by an apparition in the afterlife, she is forced to learn the unlearnt lessons of love.
Industry Reviews
Peer Reviews
What I liked

Overall I see this as an ambitious attempt. I think it's great that you've tried to make each scene different to keep the reader on their toes. In each scene, something drastic has happened to a character, so you're adding to the story in this sense.
Different time periods
One area to improve could be focusing on a particular time period for a bit longer. Overall, I think six different time periods were covered. The challenge w...
Recommended for You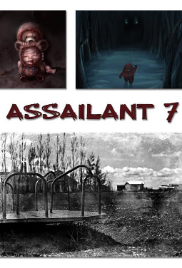 When twin girls are accused of murder, child psychologist Brent May joins a covert FBI Task Force comprised of Criminal Profilers and paranormally-gifted children to hunt down a violent kidnapper. An unlikely ragtag team of witches find themselves brought closer together as they gain custody of the child of one of the kingdom's most powerful and fearsome leaders. In a chaotic world where dangerous beings no longer hide in darkness but walk amongst the living, a special group is tasked with protecting both sides.