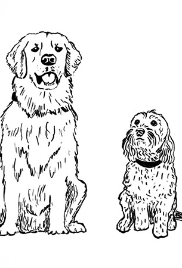 Dog'xploding
short
Bear is ever so worried about fireworks. Perhaps with good reason.

Nominee
Draft #1
2 Reviews | 3 pages | 2 years ago | Draft 1
Summary
Two dogs contemplate fireworks night. One of them knows what's really going on.
They talk, and the smaller dog explains the secret to the bigger one.
Industry Reviews
Peer Reviews
It is hard to write a review to a story so short, but here I go:

I love the way their dialogue is short and simple as if these two dogs quickly speak their own foreign language. The story itself is original but needs some improvement. We get no information at all about how these dogs/fireworks thing goes. I got very confused about that.

The idea of the montage is great! And you describe the scene well at that point. By the way, the structur...
Recommended for You Lydia goes to the wrong support group. Meanwhile her son is on a nightly adventure. Imagine a scarecrow who can't scare...Meet Jack A genie offers an antiques dealer three wishes but the man soon begins to suspect the supernatural offer may have some very serious strings attached.