 THE TATTOO MAN
feature
Two half brothers and soul heirs to the Mpezeni kingdom in central Africa who grew up from different worlds must settle their succession dispute in a boxing ring.

Nominee
Draft #1
2 Reviews | 110 pages | 1 week ago | Draft 1
Summary
After a feeling of being threatened by his brother's arrival in the kingdom. Chad gets tattoo charms to make him stronger. He fights his brother to a near death and runs away from the kingdom. He becomes his a Proffessional boxer. However in the turn of events the brother survives and adopted by an American couple. He comes back for revenge. He challenges him for the title. A mare boxing match complicates in a fierce fight to get on the throne when the king dies.
Industry Reviews
Peer Reviews
I'm going to put the gist of my notes in this section, I have it separated into parts I thought were good, and parts that could use a bit more work and refinement. Please don't take offense to anything I say, I simply want to help make your story as awesome as possible. I like the concept and I like the two main characters of Chadwick and Jane. If you strengthen everything around these core pillars the story will only improve.

What I Liked:...
Ultimately, I cannot recommend that anyone else read this script in its current state and cannot imagine that anyone would want to. The grammar and spelling mistakes are so numerous that I stopped taking any note of them after page 4 and started skimming whenever the errors became too plentiful. The characters are unrealistic and aren't relatable because the dialogue is rigid and unbelievable. This script needs to be completely rewritten with car...
Recommended for You A husband and wife coping with the loss of their son, find themselves in mental warfare with an alien force hellbent on tearing their sanity apart.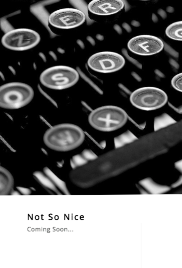 A girl who knows what she wants out of love and life and a guy who can't seem to fathom why he doesn't fit the description of being her love-interest because after all... he's a nice guy. What ought to be a blissful marriage between Bode and Cynthia turns out to be a divorce situation and a nightmare to their twin daughters, Shade and Joke