 Witch side are you on?
feature
A T.V. investigative reporter goes too far in an expose becoming part of the story. He is literarally cursed to lose his sense of reality about when he is on camera or not. his
0 Reviews | 116 pages | 2 years ago | Draft 1
Summary
Rex is a popular investigative news reporter for a local T.V. station.In his ambition to get a juicy story he may have fabricated evidence. The object of his story is driven to a rampage. Rex's boss sends him out of town, so things might cool down. Out in the country he encounters a weird witches coven. They cast a spell on him that reverses his fate. Soon he is unable to tell when he is on camera or not. He goes insane, and is institutionalized.
Industry Reviews
Peer Reviews
Recommended for You In the story, Ethan is 12, and Alex is 6. They are brothers in a harsh dangerous world. The movie is a zombie apocalypse movie, and the two brothers stray from home one day, unfortunately right as the apocalypse happens! They may be cute, but they ain't cuddly.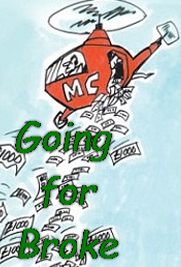 Two zany songwriters join a tipsy Englishman, his daughter, and a goofy helicopter pilot, rob some con men, run into trouble, and wind up in a horse-drawn wagon chase through Mexico.