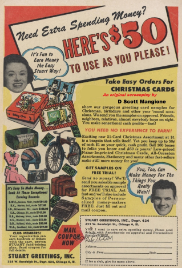 Christmas Cards
feature
When his father is rendered unable to work, an imaginative young boy sets out to sell Christmas cards to raise money and help his poor family celebrate the holidays.

Winner
Draft #1
2 Reviews | 112 pages | 3 years ago | Draft 1
Summary
Christmas Cards – One Page Synopsis
Katonah, New York, 1949. TONY, 9, wakes up in the cold, dark attic he shares with his brother, SAMMY, 11. As Tony reads his only comic book, he discovers an ad for selling Christmas cards. Tony finds out his mother, ANNA, is excited because it's a Sunday Christmas this year. Tony walks the long way to school to avoid going under the "troll bridge". In Sister Redempta's class, Tony explains his plan to sell Christmas cards during his presentation. DANIEL, 9, rudely interrupts him and tells Tony he won't sell any cards. The class chants, "One-shirt Tony, one-shirt…" Devastated, Tony gives up on selling the cards and then he finds out his father, GIOVANNI, is injured and can't work. Tony changes his mind and decides to sell the cards.to help his family.
Tony tries to memorize the script but spends most of the time playing catch with his dog. He goes to his grandmother's house. His sister, MARIA, 10, convinces Tony he can sell the cards. At school, Daniel tells Tony he'll never sell any cards. Tony doesn't sell a single card. He goes back to Maria's house. She helps him memorize the script. The next day, Tony sells five boxes. On the way home from his sister's house, Tony thinks he sees a troll under the bridge. Tony gets home and hears a friend from his father's work tell his Dad the boss canceled his Christmas bonus check, His mother cries and says they will have to cancel Christmas. Tony gives her the money he's made and promises he'll make enough money to have the best Christmas ever.
At Daniel's mansion, he finds out that his parents are going to be gone for Christmas and he'll have to be alone. Tony walks up to a mansion. He doesn't realize that Daniel lives there. Daniel pays his maid to tell Tony she will buy all of his cards if he can come back in a few days. Tony tells his sister that he sold all the cards and they fantasize about how great Christmas will be. When he returns to the mansion, Daniel tells Tony it was a prank and no one is going to buy his cards. Tony knows there is no time left to sell the cards so Christmas is ruined. Completely depressed, he blames God and goes to his church to tell the priest he no longer wants to be an altar boy. The wise words from the priest convince Joey he can still sell the cards even though there are only two days left until Christmas.
Tony trashes the script and uses what he has learned from family and friends to sell the cards. He sells some but comes woefully short of what he needs. Facing failure, he ignores the sign that says "absolutely no kids allowed" and goes into a huge party at the Elks Lodge. A trick he performs with his dog impresses the exalted ruler of the Elks club. With his help, Tony sells the rest of the cards. On his way home, Tony chases his dog under the "troll bridge". He's attacked in the darkness. Tony sadly goes home without any money. When Tony gets home, he realizes his mother was worried about his father, not Christmas. Tony spends Christmas Eve convincing everyone he knows to spend Christmas at their house and it turns out to be the best Christmas ever.
Industry Reviews
Peer Reviews
This is a perfect year to post a movie script for the holidays. This script is beautiful, amazing, magical and nice. With all Christmas movies, they have to have, heart, drama, love, and a perfect message. With all Christmas movies, they all have to be family friendly, and this script of yours deliver. I love all modern holiday movies, like How the Grinch who stole Christmas, Elf and Christmas with the Kranks, I also enjoy the Christmas Vacation...
The concept for the story is very strong, centereing it around Christmas season is obvioulsy very smart.

Logline and first ten pages serviced the script well. Logline set apporpriate expectations, and the first ten pages established the story, main character, and challenges they would face.

Descriptive scenes were well written, not exaggerated nor written as if they were directing the movie.

Antagonis/protagnoist is probably the weake...
Recommended for You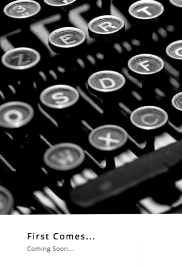 After a shy boy makes a bold yet awkward move on his dream girl in high school she moves away. Now 5 years later she's back and their romance rekindles full speed and a night of passion leads to a first for both of them.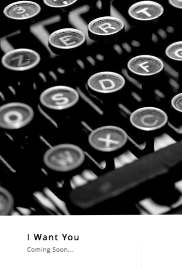 The sound of her song touches his heart. A love requited like never before; aside from death is there anything else that can keep them apart?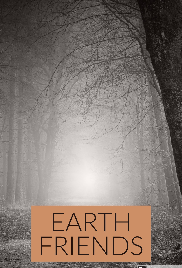 A fantasy about a lonely girl who escapes her dull life and loneliness, through imaginary journeys