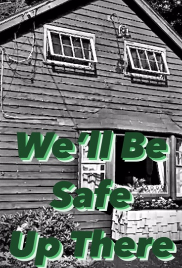 We'll Be Safe Up There
feature
During the pandemic, a writer flees the city with his wife and brother to a cabin Upstate - and encounters a murderous cult.

Winner
Draft #1
2 Reviews | 103 pages | 1 year ago | Draft 2
Summary
As the global pandemic rages on, failed filmmaker Dev O'Rourke seizes an opportunity to flee New York City with social media influencer wife Izzy and grad-student brother Mac. What seems like the ideal writer's retreat turns out to be a living nightmare, however, as Dev starts to suspect that the small mountain community in Upstate New York might actually be a murderous cult. Timely and terrifying, this horror-thriller taps into very real modern fears of anti-science conspiracies and perverted religious group-think.
Industry Reviews
This has all the makings of a solid cult thriller. It's fun, creatively violent, and the plot is strong and doesn't deviate from the genre. That being said, there are a few elements the writer should consider.

With the script's current structure, particularly in the setup, you've chosen to reveal most of what the audience should expect. You've chosen to show the Mendessen's being killed and their son running away, telling the audience two thin...
Peer Reviews
Recommended for You Has SVF finally met his match? Coveting the endless gravitational energy of a black hole, a group of scientists will use quantum physics and Andean myths to access a black hole in another dimension. What comes from there is more than that. When a group of teens travel to Haiti for a church mission, they are met by a shape-shifting monster, famous for ripping human flesh from its bones. It's Leprechaun meets Wrong Turn.