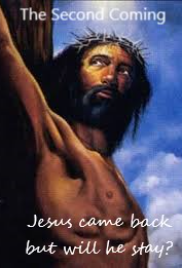 The Second Coming
feature
God's plans for the End Times are messed up when Trump & Pence take over the White House.
0 Reviews | 114 pages | 1 year ago | Draft 1
Summary
Jesus, son of Joseph the Carpenter, and technically the Son of God, yes, the Big Guy Himself, leads the charge against the modern politics of hate represented by the Pence and Trump campaign ticket of 2016. Considering how badly the last one ended (anyone remember The Passion, The Trial and The Crucifixion thing?), Jesus is not very stoked about this Second Coming, even if the Bible promised it.

God feels guilty about how that last one ended, too. The Big Guy is stuck between a rock and a hard place, though. He sees Trump winning and has to do something. This time, he won't leave his kid hanging, so he puts together a Dream Team to watch Jesus's back. Lucifer is brought on. (Who knows evil better than the Prince of Darkness?) Pilate is put on retainer to handle the legal stuff. (Any guy who can get a conviction on Jesus has to be good.) God signs up Apostle Paul to handle the press. (If a guy can write the New Testament, he can handle the Tampa Tribune.) The Big Guy even throws in a free vacation for Jesus's wife, Mary Magdalene, and the kids.

Everything goes to shit pretty quickly though. Apparently, Pence and Trump aren't just your run-of-the-mill 21st-century politicians. As one Apostle puts it: "Yes, it's true. Pence, not Trump so much, but Pence is, as far as we can tell, the Beast of the Book of Revelations." The stress, and the constant attacks on Jesus, wears him down and He ends up partying his sorrows away in the Florida nightlife, which just adds more questions about Jesus, his character and his handling of The Apocalypse. Driving under the influence, arrested for rioting, pinched at Customs in Laguardia Airport, Jesus is sick of getting locked up, tired of being hungover, and sick of hearing Mary yelling at him. He's totally sick of Trump, Pence and all their hatred. So Jesus splits.

Jesus, a "good kid" at heart, can't stay away. Lucifer, yes the Devil, says it best: "Love may come, and it may go. But love always comes back." And, so, Jesus calls Mary and she picks him up. Love is the only thing that can save the End Times. Jesus goes back to his family and impregnates Mary. They decide to name the child Jesus – yes, another Jesus for another era – or what could be called a Second Coming.
Industry Reviews
Peer Reviews
Recommended for You A manchild gets a job at his father's company, and begins to remake it in his own image. A comedy-drama set in a Years and Years type future His father wants him to follow in his footsteps... but those footsteps lead to murder.