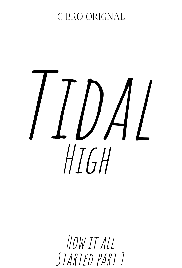 Tidal High
television
Welcome to Tidal High, where drama is always happing. Follow along with Jacob, Mason, Holly and Ruby as they navigate their way through high school with their teacher Courtney Garcia.

Nominee
Draft #2
11 Reviews | 24 pages | 2 years ago | Draft 2
Summary
When Courtney Garcia arrives at Tidal High, she wants to create a new legacy and reivent the Drama.


Jacob Miller, Samson Matthews, Holly Chambers and Ruby Dyer all sign up for the musical. Together they will naivigate their way through High School, dealing with anything that life throws at them.





Enjoy, the second draft of TIDAL HIGH.
Industry Reviews
Peer Reviews
Recommended for You In a chaotic world where dangerous beings no longer hide in darkness but walk amongst the living, a special group is tasked with protecting both sides. The dark secrets of a heralded preacher's family come to light as his transgendered wife, who's kept her secret for years, is pressured to have another child. Against impossible odds, Gatito will try to change the unjust law that has condemned him and his loved ones to a hopeless life. As this happens, a governor obsessed with scapegoating immigrants rises to power, corrupting institutions and targeting Gatito himself.