 Clowntdown to Doomsday
feature
Humanity is threatened when a downtrodden, suicidal clown microwaves PCP as a means of escape, leaving a hodgepodge crew of ill-suited individuals to restore order.
0 Reviews | 128 pages | 3 years ago | Draft 1
Summary
Clowntdown follows the characters of Bubbles the clown who has an amusingly cynical outlook on life as he tries to make it by with as little effort as possible before succumbing to the downfalls of his own poor lifestyle and habits, causing a series of ridiculous events intended to generate as much laughter as possible.
Industry Reviews
Peer Reviews
Recommended for You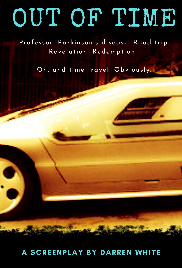 Senior Professor. Parkinson's Disease. Middle-age. Road-trip. Revelation. Redemption. Oh, and time travel. Obviously. When a backbiter street kid from Mumbai meets a sarcastic British man in a cafe, memories from his past resurface and he is forced to question his new lifestyle. What would happen if the IRS number one agent turns into a modern day Robin Hood?