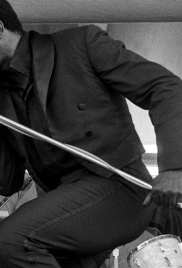 Soul Power
feature
The Night James Brown Saved Boston
1 Reviews | 95 pages | 1 year ago | Draft 4
Summary
When Dr. King is assassinated, a Boston city councilman comes up with the idea for James Brown, who has a concert scheduled there the next day, to have his show televised as a means of keeping people home and safe. But he only has hours to convince Brown, the mayor, the tv station, and the police.
Industry Reviews
Peer Reviews
At first I was confused and a bit surprised that this passed first fifteen because the formatting is lacking in a major way. The cover page doesn't have the title nor does it have your name, so you'll want to fix that. The next part is you have action in the dialogue column for example: "
CONNIE (CONT'D)
Maybe
(to the other boys
You all need to go straight home if you can make it. Please don't do anything. I know how you feel, but the police-...
Recommended for You When an atypical non binary teen runs away from home in search of their idol, a now washed up actor, they must confront a callous and rejecting society head on in order to find the acceptance they've yearned for their whole life. A perpetually nostalgic, anxious and depressed alcoholic has two weeks, before his death, to gain forgiveness from an old lover, after her younger brother dies in his care. Worlds most unlucky man finds luck, loses it and must fight to get his life back.