 Happy Nights Inn
short
While seeking shelter from the cold, a wandering man finds a motel haunted by the dark spirits of his past.
1 Reviews | 36 pages | 2 years ago | Draft 2
Summary
Plagued by anger issues and alcoholism, Bill Sanderson is on the run from his dark past. When his car breaks down in the middle of nowhere, he has no choice but to seek refuge in the derelict Happy Nights Inn, a mysterious motel with a sinister-looking manager. Despite its abandoned appearance, Bill gets a room in the motel for the night, completely unaware of the evil that awaits him.
Industry Reviews
Peer Reviews
Hi,

I make notes per page as I read through and then do a general review after I've read the script, so please note that the Page-by-page notes are first impressions as if I'm reading/watching for the first times.

It's clear that you are a seasoned writer and it's a very 'clean' script as far as format and grammar and spelling goes. Forgive me for nitpicking :-)

Your descriptions and action are beautifully written, but your dialogue tend...
Recommended for You A teenager who has struggled with powerlessness his whole life receives an inheritance that changes everything A suicidal man is comforted by a stranger but soon begins to suspect he might be better off without her help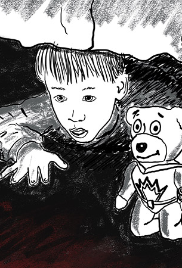 Something bad happened to Max and Superteddy on holiday that year.