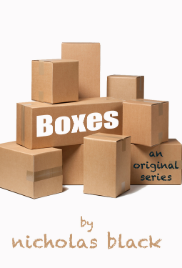 Boxes
television
Juan Valdez, the owner of Boxes Y Mas, prepares for his US Citizenship test with the help of his well-intentioned but ill-informed employees, homeless vagrants, and wacky customers in the half-hour off-color comedy that will leave you laughing, and probably in need of counseling.
0 Reviews | 33 pages | 3 years ago | Draft 1
Summary
Juan Valdez is a Mexican immigrant who has built a thriving Mailbox business in the hear of L.A. He's just days away from his Citizenship test but he isn't ready. Seeking the assistance of his staff (Tara & Skip) seems like the logical thing to do, but Juan is given a smattering of ridiculous historical anecdotes and tall tales in the process.

This script was a project that I was challenged to complete from a group of actors who said, "You can't write a comedy pilot script in a day," to which I replied, "Hold my beer..."
Industry Reviews
Peer Reviews
Recommended for You Gay teenage romance After his family circus shut down, Harris Garner must go back to primary school in order to find work. The only problem is he's 24. A camera guy decides to follow the day to day life of a proud and eccentric motel manager, when a mysterious drifter rolls into town disrupting the manager's routine life.