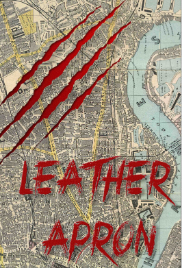 Leather Apron
television
Based on True Events: A London Police detective tracks down an American Doctor with ties to both the assassination of President Lincoln and the first "Jack the Ripper" murder.
0 Reviews | 65 pages | 3 years ago | Draft 1
Summary
* WINNER: 2017 Los Angeles International Screenplay Awards - "Best Television Pilot"





In April of 1865, Dr. Francis Tumblety, former associate of John Wilkes Booth, is sought in connection to the assassination of President Abraham Lincoln. In 1888, Francis is stalking the streets of London's dangerous East End when the first of many "Ripper" murders occurs.





Detective Paul Singleton — a gang cop with a violent past — is called in to investigate the death of Emma Smith, just one of Whitechapel's many women making her living on the streets. With the assistance of his motley crew of thug police officers, gang informants, and a mysterious enforcer, they hunt down the Cornermen involved in the murder.





As the hunt continues, a much larger mystery starts to unravel, giving us a glimpse into the horror that was spreading like a virus through London during the time of the infamous "Jack the Ripper." Unlike other 'Ripper' tales, this journey follows all of the most likely murder suspects, giving us a rare and horrifying glimpse into their lives.





Welcome to the dark world of Leather Apron.





Attached Talent:


Actors - Noah Centineo, Michael Cudlitz


DP - Matt Wise
Industry Reviews
Peer Reviews
Recommended for You When Jackson goes missing a mother will do all she can to find him. Satwik, an insurgent with a complicated life and love stories, falls off the college building and dies. Two police officers investigate seven suspects from his to find his 'Death Cause'. A murdered white supremacist enters the Terminal, where he undergoes an evaluation of his life lessons. But the evaluation does not go as expected and leads to stunning consequences.