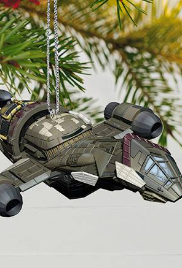 On Our Merry
television
A sequel Firefly episode

Nominee
Draft #1
0 Reviews | 43 pages | 4 months ago | Draft 2
Summary
Common sense says that only people reasonably familiar with the series should review this. However, the first feedback I received is almost nothing but the reviewer's own thoughts on where he saw the Firefly stories/relationships going. Essentially, critiquing my script by telling me how he would have written it. Obviously, that isn't helpful.



This takes place some indeterminate time after the events of Serenity. I know nothing about any of the subsequent novels, graphic or otherwise. Admittedly, there is some on-the-nose fan service.
Industry Reviews
Peer Reviews
Recommended for You Elle Divine walks from the midst of the Blue Ridge during a pandemic. She desires Elle Divine to fix things gone wrong over starting with two female disciples An actress turned vigilante hunts down a rapist, afterwards, her sister falls for a club owner caught in the wake. Erembour, a friendly but unusual girl, must escape from a giant, manor filled with monsters, demons, and wolves.