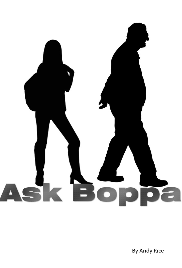 Ask Boppa
feature
In 2054, an apprehensive college co-ed faced with having to write a multi-generational story, enlists help from her Great Grandfather who takes her on a tumultuous road trip that threatens his life and gives her the inner strength to succeed.

Winner
Draft #7
0 Reviews | 115 pages | 7 months ago | Draft 11
Summary
In 2054, Marie, a soon to be college graduate, has to write her thesis in Creative Writing, but also has a job writing in the stream. Wanting it to stand out, she enlists her Great Grandfather, called Boppa by his family. What started out to be a simple interview turns into a road trip that goes awry and a secret that proves true love still exists.
Industry Reviews
The concept is original and fresh. Best of all, you give the audience a character they can see themselves being in the distant future while bringing a nostalgia to the present time.

But despite the 120+ of script, there isn't much to the plot. In over two hours of script, you have Marie taking Boppa on a one hour train ride to Ohio. They spend some time in the train talking and he has a few health scares, but it isn't until the very end when B...
Peer Reviews
Recommended for You Santa finds himself between two worlds when he decides to find out the reason behind the age-long addiction of crime, plaguing him and his family. What ought to be a blissful marriage between Bode and Cynthia turns out to be a divorce situation and a nightmare to their twin daughters, Shade and Joke In 1994, the Daughters of Mary orphanage and the Golden Hill retirement home in New York City each experienced a budget crisis and combined into one facility.