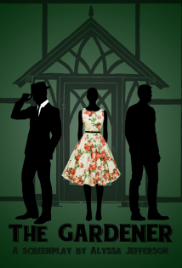 The Gardener
feature
In the 1950s, a neurotic florist's strict routine is derailed after stumbling across a murder scene, and he's thrust into a conspiracy only his all-consuming obsession can unravel.
1 Reviews | 103 pages | 9 months ago | Draft 2
Summary
Charles Dempsey is just settling into his routine after his mother and business partner at the Dempsey Flower Shop fell ill, when he stumbles across a corpse dumped in a flower bed on his way to work. On a tight schedule, and now with twice the workload, Charles flees the scene, but not before being captured on film by aspiring journalist, Alice Calloway.

Suddenly the prime suspect in the case, Charles is continuously harassed by a pair of unbridled Homicide Detectives as more corpses turn up around town, each with exotic flowers delicately woven into their hair. Charles struggles to maintain his routine, and his sense of normalcy as his world crumbles all around him.
Industry Reviews
Peer Reviews
The premise is a familiar one in the unique setting of the flower shop and plant nursery. Reminiscent of Hitchcock thrillers. The 1950s setting may alienate a younger audience.

The plot was predictable if the viewer is familiar with movies like Psycho. Although the writer did a good job of casting suspicion on McClain and even Alice, early on it was easy to guess that Charles was the murderer and Mother was dead.

The obstacles in the story...
Recommended for You When you know how the police operate its easier to get away with your crimes What ought to be a blissful marriage between Bode and Cynthia turns out to be a divorce situation and a nightmare to their twin daughters, Shade and Joke A gangster finds himself in a struggle for power against loyalists to his former boss.