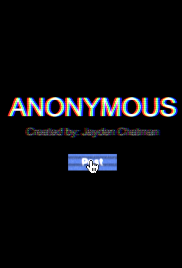 Anonymous - Episode 1: Pilot
short
When everything seems like it's going well for these privileged, suburban teens... an old secret resurfaces from an anonymous twitter account.

Nominee
Draft #1
7 Reviews | 17 pages | 3 years ago | Draft 1
Summary
If Pretty Little Liars and I Know What You Did Last Summer had a baby... it would be ANONYMOUS.

ANONYMOUS takes the lives of the rich, suburban teens and turns them upside down when a murder they committed in the fall, resurfaces. How will they balance their last year of high school, romances, family drama, and covering a murder? Guess you'll have to find out.

ANONYMOUS will keep you on your toes from start to finish EVERY EPISODE, and leave you hungry for more!
Industry Reviews
Peer Reviews
Recommended for You Un chico que no tiene mucha confianza en sí mismo deberá juntar coraje y ayudar a la chica que le gusta, que olvidó sus lentes. I have never heard of a logline before but let's just roll with this Two brothers wander an apocalyptic setting.