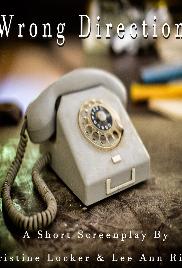 Wrong Directions
short
An elderly couple endanger themselves by refusing to update their technology.
2 Reviews | 5 pages | 1 year ago | Draft 1
Summary
Rose and Jason Stanberg, both in their 80s, still live in a home filled with old technology, especially their phone.

After getting into a spat over a few prank calls, Jason leaves the house to fetch the newspaper which they still have delivered.

Rose is alerted when Jason screams for help from outside, and she finds her husband lying injured in on the ice.

Juan, their neighbor, rushes over to help, inquiring about what is wrong with their phone as he had been the one calling to warn of the snow.

The two old lovebirds realize it's time to move into the twenty-first century.
Industry Reviews
Peer Reviews
I'll start out by saying that you have a decent story here. I think it works in the amount of run time given and it's mildly interesting considering there are not many short films focusing on elders and their technology. Kind of a satire.
But the thing that really drags it down a little is the dialgouge. Remember, every line should always be either moving the plot forward or defining character. I think there are some parts that could be trimmed...
This is a curious story about an elderly couple, Jason and Rose (I'm almost 80, so I'd bump their ages to 90). They seem to spend their lives bickering and SHOUTING at each other because of hearing loss – among other reasons. Their surroundings are a throwback to the fifties: décor, old-fashion phone, and (B&W?) manual TV.

Suggestion: Old-fashion phone is non-descriptive based on the age of the reader. Maybe – Rotary-dial phone would nail dow...
Recommended for You A man finds himself out of his depth when he lets down a criminal network dealing in false information. A group of friends on a camping trip take a bet too far. Isn't life wonderful? Just ask Kev!