 Save the Girl
short
The spirit of a murdered girl, angry at a Detective's failure to bring her killer to justice, holds the man's wife hostage in an attempt to force him to exact her revenge on the killer, while he must find a way to save his wife without losing his own soul.
4 Reviews | 17 pages | 2 years ago | Draft 1
Summary
Dreams that turn out to be psychic in nature drive a woman (Megan Fritz) to obsession, trying to save a girl that visits her dreams, but who is actually the spirit of a girl who was the victim of an unsolved murder, investigated by the woman's Detective husband (Sam Fritz). Megan believes that what she is seeing in her dreams is a premonition, and thus, if she acts quickly enough she can prevent the girl's demise. However, as we find out, the girl has already been killed and the girl is actually an angry spirit. At the same time Megan is making sense of her dreams, Sam continues to unsuccessfully investigate the girl's murder. The girl brings Megan and Sam together when she is able to lure Megan to the scene of the crime and possess her body. Sam is blackmailed by the girl/spirit to be the vessel of her revenge on the killer, or loose his wife forever. Sam must find a way to save his wife and not loose soul doing it.
Industry Reviews
Peer Reviews
Recommended for You When a beautiful, young woman is viciously raped and murdered by a trio of psychopathic serial killers her spirit inhabits their car so she can seek her revenge. A middle-aged man wakes up in a seemingly endless building, called "The Backrooms".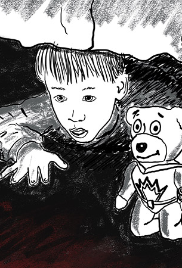 Something bad happened to Max and Superteddy on holiday that year.