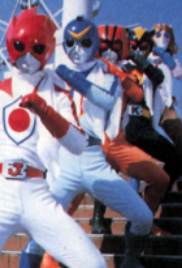 Dynamic Squad Action Team Go!
television
When a potentiality damning tape from the past arrives at his footsteps, it's up to a former teenage superhero to alert his old team, while they're in the middle of filming their come back.

Nominee
Draft #1
0 Reviews | 36 pages | 8 months ago | Draft 2
Summary
The Dynamic Squad was once one of the hottest celebrity superhero teams in the '90s. Now it's been twenty some odd years later and they're rebooting the team again. Everyone's back, except for the troubled former leader, Jeff Delafield. But when a potentially damning videotape from the team's past arrives mysteriously at his footsteps, Jeff makes it his mission to alert his old squad, even if it means seeing them again, reigniting old wounds, and jumping back into the world of the celebrity superhero.
Industry Reviews
Peer Reviews
Recommended for You An unlikely ragtag team of witches find themselves brought closer together as they gain custody of the child of one of the kingdom's most powerful and fearsome leaders. A tragic accident sends 15-year old Trevor to live with his gay uncle Gary—a barely-sane fetish porn producer—who, together with his eccentric life-partner Bruce, teach Trevor how to be a real man! Minimum wage employees at a failing mall try to keep up with a crazy manager, power hungry security guard, and all the strange customers in-between.