 A Modest Adventure
Feature
When 12-year-old MODEST helps his friend ANSEL(12) escape the clutches of his drunken uncle, they lose each other in the mysterious redwood forest, where each of them sets off on a wild adventure in the hopes of reuniting.
Rating is only available to members
Family | 2 Reviews | 119 pages | 1 year ago | Draft 1
Summary
MODEST (12) is a lonely boy who lives behind the high walls of his father's lumberyard. When ANSEL (12) and his drunken uncle show up at their doorstep to sell them rotten logs of wood, Modest takes the opportunity to help Ansel escapes his abusive uncle's grip. They stumble into the nearby Redwood forest and lose the uncle behind. However, the two boys get attacked by a giant bear and are separated as a result. The two are then set on their own wondrous adventures in the hopes of reuniting with each other. Modest meets a Sasquatch and a dog that can pilot an aircraft, while Ansel comes across a hermit and a traveling Apotheker. With the help of the friends they make along the way, the two boys explore the fantastical world around them and learn essential life lessons about friendship, kindness and the process of growing up... Until finally, the two boys are reunited. But they are changed forever.
Reviews
First, off Timothy, I liked this concept and story. It's very family-friendly and makes me feel nostalgic. Please take my comments as a friendly critique and remember we are all here to help one another make something that may one day make it to the medium seen by millions!

This was clearly written where I had no trouble following the story. You had some good formatting/grammar/punctuation. I couldn't quite tell what the genre was. I didn't n...
It's an above average script, I really appreciate the effort. Let me clear this that I am not a professional, still learning. Hence I advice you to not take the review seriously although I will try my best to point out some things. Let me start with the beginning, if I were to see your script in the form of 3 act structure, I think the inciting incident comes way too soon. The story has just started when Ansel decides to run with Modest, personal...
Recommended for You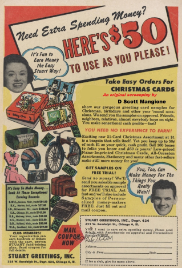 When his father is rendered unable to work, an imaginative young boy sets out to sell Christmas cards to raise money and help his poor family celebrate the holidays. Under the greatest threat of its existence Neverland cries out for a new hero, and she's bringing friends. Under the greatest threat of its existence Neverland cries out for a new hero, and she's bringing friends.