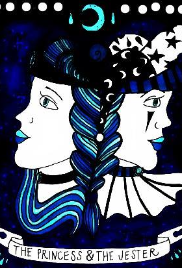 Misty River
TV Series
Get ready, to jump into the exciting life of 15 year old River Lincoln. Starting out at a new high school can be hard enough but when bumping into the school's bully on the the first day, River's life becomes extremely tempestuous. Will he be able to survive at his new school?
Rating is only available to members
Drama | 1 Reviews | 47 pages | 7 months ago | Draft 1
Summary
~When the Mist rolls in and the River raises will you survive? Get swept into the lives of Misty and River Lincoln. When Misty accepts a new Vice Principal job at Rachelwood High, River's life is turned upside down. Starting out in a new school, is hard for anyone, but when River makes the unfortunate mistake of bumping into the school's "It Boy" Dakota D'Ambrosio his life becomes a living hell! To make an enemy out of an D'Ambrosio is foolish, will River be able to survive his sophomore year? Find out in episode 1 of Misty River in tilted "The Princess & The Jester" P.S. I've written episodes 2 & 3 also!!!
Reviews
Concept is good but not strong enough to be enticing.
Plot is a little weak.
First ten pages didn't draw me in.
Scenes are not well written.
Protagonist is compelling enough but the way their characters is executed in not very good.
Dialogue is not very good.
Climax is good but could be better.
Recommended for You A series focusing on an American enclave accessible only by land through Canada that is increasingly dependent on its neighbor yet fervent on retaining its uniquely American identity

A football fan woman goes on a journey of self discovery and destiny when as a publicity stunt she becomes the first Female head coach in the NFL, but when she proves to be the better person for the job the Male dominated league pushes back. Amelia and Zeek go hiking, After an avalanche, Amelia ends up having to save Zeek.